Aquaman: A Garbage Tier Review
Rating: PG-13
Genre: Action, Adventure, Fantasy
Directed By: James Wan
Written By: David Leslie Johnson-McGoldrick, Will Beall, James Wan, Geoff Johns
Theaters: Dec 21, 2018
Runtime: 2 hours 23 minutes
Studio: Warner Bros
Cast:
Jason Momoa: as Arthur (Aquaman)
Amber Heard: as Mera
William Dafoe as Vulko
Patrick Wilson as King Orm (Ocean Master)
Yahya Abdul-Mateen II as Manta
Nicole Kidman as Atlanna
Dolph Lundgren as King Nereus
When I watched the final trailer for Aquaman, I knew that the film was going to be a hit. Watching the movie in IMAX last week I'm happy to report that it exceeds all expectations and is one of the most imaginative superhero genre films ever be released.
The film marks Jason Momoa's third appearance as the protector of the deep and he makes the character wholly his own. Aquaman benefits from being a character that has made mainstream appearances before but hasn't really been fleshed out. I feel that Momoa will always be attached to this character much in the same sense that Iron Man will forever be associated with Robert Downey Jr.
Some of the acting is a bit choppy but even that is addressed in a tongue and cheek way in the film. Aquaman knows him limitations. He's a blunt instrument. He's not the first choice to be a king but his working class demeanor and approach to problem-solving make him more relatable to audiences. It makes their support for the character even stronger despite the shortcomings.
Aquaman isn't on his mission alone he's joined by Amber Heard (Mera). She plays Co-lead and love interest for our hero. She's smart, strong-willed and may be even more powerful than our hero.
On the other side of the aisle our Villains Manta (Yahya Abdul-Mateen II) and Ocean Master (Patrick Wilson) are downright nasty. I was nervous when I heard that Manta would be wearing a comic's accurate costume because there was so much room for it to come off as goofy.
The suit is played completely straight and looks Badass. Patrick Wilson also pulls off a completely swarmy and smug Ocean Master.
Both characters are intelligent, capable and give our heroes a run for their money. The villains also benefit from being portrayed by incredibly charismatic actors. You can't help but give them your complete attention whenever they appear on screen.
This film is beautifully directed by James Wan. He gets the most out of his actors and produces a film with a lot of heart. As stated above the film is very imaginative and although it's not a perfect film the combination of super heroics and unique special effects make it better than the sum of its parts.
This is why although I would put a film like Black Panther over Aquaman in regards to the acting on screen I would say that Aquaman is a better film on the strength of its moxie.
If Wonder Woman was a proof of concept for what the DCEU could be post Scott Snyder. Aquaman represents the brand finding its footing and succeeding in a landscape where many pundits had written it for dead. At the time of this writing Aquaman has crossed $900 worldwide and is pretty much a lock to be the DCEU's first billion dollar film.
Marvel take notice, the King of Atlantis has arrived.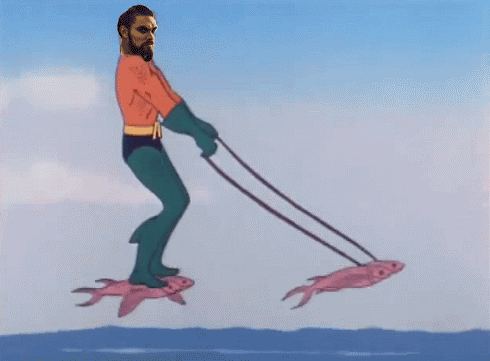 Rating B+
#Aquaman #JamesWan #GeoffJohns #WarnerBros #JasonMomoa #PatrickWilson #DolphLundgren #Movies