• Mark Russell (Author) • Stephen Byrne (Pencils-Cover)
• Mike Cotton & Andy khouri (Editors)
• Dustin Nguyen (Variant Cover) • DC Comics (Publisher)
• Get it now (Amazon)
I read a lot of comics, usually 2 to 3 a day. I rarely have a visceral reaction to any comic. Mark Russell and Stephen Byrne got one out of me today. Wonder Twins is modern re-imagining of the much-maligned characters from the old Super Friends cartoon.
After an undisclosed event happens on their homeworld Superman offers to take twins Zan and Jayna back to earth to give them a chance at normal lives. They also get jobs assisting the Justice League.
They attend Morris High School. Zan has plans to become the most popular kid in school but embarrasses himself at every turn. Jayna seems to have it a little better but her shyness holds her back.
Overall, the issue is hilarious from beginning to end. I definitely got a 21 Jump Street vibe from the book. There's a series of silly events tied together by an overarching narrative. It's a bit too early to say where the story is going but the character and tone of the series is firmly established. If the comic can maintain the slice of life "coming of age" structure of this issue, Wonder Twins may become classic level reading material.
There are a ton of jokes in this issue but there's one gag in particular that is set up early and paid off majestically by the end. I literally bust out laughing. That's the reaction I was talking about earlier.
In certain circles of social media, there was a lot of chatter about deviant sexual behavior and beastiality being peddled in this book. Those claims are nonsense. The comic is a great time and would be worth a read even if you weren't a fan of the character's walking in or comics in general.
I also noticed that Mike Cotton on editorial. This is another bright spot for the series. Mike was one of the editors from Wizard Magazine during its heyday. This bold's well for the series as he is genuinely funny and has an encyclopedic knowledge of DC, pop culture and comics in general.
I love the simple character designs for the twins. Stephen Byrne captures the look and feels of the Super Friends costumes but updates the characters to fit in 2019. The colors palette is bright and colorful complementing the linework beautifully. This balances well with the overall tone of the script. This series has a lot going for it at the outset and I look forward to watching this project develop. It also helps that purple is my favorite color.
I never expected to see the Wonder Twins in a mainstream comic. I appreciate that DC is still willing to take risks and promote new or under utilized characters in the current comics landscape. Wonder Twins #1 is a definite win and deserves attention.
Rating A-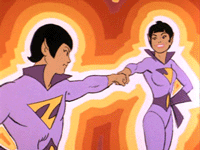 #MarkRussell #StephenByrne #DustinNguyen #DCUniverse #DCComics #WonderComics #WonderTwins #Nostalgia